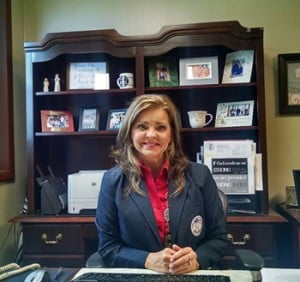 Dear Citizens of Washington County,
It is with much honor and pride that I serve as your Clerk of Circuit Court and Comptroller for Washington County. I was elected to serve the public for a two year term on November 4, 2014 and sworn in to office on November 12, 2014. I am a lifelong resident of Washington County and the daughter of the late Callie and Cuelon (C.C.) Corbin of Chipley. My husband, Dwight and I have been married 36 years. We have three children, April (Derek) Howell, Alesha (Jonny) Booth, and Will Bell. We have been blessed with eight precious grandchildren and enjoy time with our family as often as possible.
I began my employment with the Office of the Clerk on January 13, 2003 and have enjoyed serving the public in every area of the office. It is my strong belief that a Public Servant should be nothing less than this title. Our mission is to serve the people to the very best of our ability, while working as the liaison to the County Officials along with our Court and Judicial Offices. Our office strives to be a reflection of the words "A Public Office is a Public Trust".
I am here to serve you, the public, and give my promise to act with integrity and professionalism as your duly elected Clerk.
Sincerely,
Lora C. Bell